Zayn Malik ha presentato la tracklist del suo nuovo album, "Mind of Mine" e diciamolo, se riuscissimo a capire davvero bene come è scritta saremmo davvero felici. Il carattere e la modalità di scrittura rendono la comprensione un po' più difficile del necessario.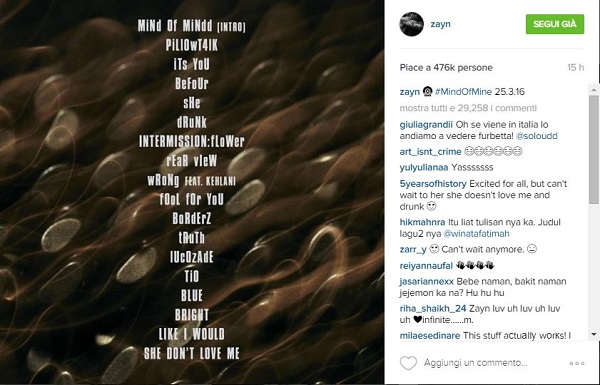 Questo nuovo modo di proporsi di Zayn Malik non è sempre facile da comprendere. Siamo sicuri che sia l'ennesimo modo per distaccarsi dagli One Direction e dal modo in cui si presentavano. Ma va detto: per quanto abbiamo amato "It's you" non è giustificabile rendere un inferno la comprensione di un titolo ai poveri fan. Detto questo e sperando di non aver fatto errori, ecco la tracklist:
Mind of mindd (intro)
Pillow talk
It's you
Befour
She
Drunk
Intermission: flower
Rear view
Wrong (feat. Kehlani)
Fool for you
Borderz
Truth
Iucozade
Tio
Blue
Brigh
Like i would
She don't love me
Anche gli errori grammaticali sono licenza d'autore e compresi nel costo del cd a quanto pare.